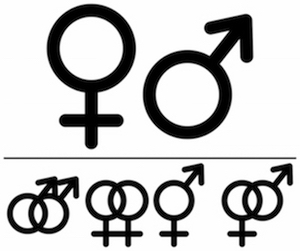 Gender identity disorders like transvestism usually occur to varying degrees in a person's life. Depending on the exact ways it manifests itself; it can have an impact on various social and interpersonal aspects of a person's life. Online therapy from the therapists you can find on GoMentor.com can help a person explore their transvestism and make sure it doesn't become a negative in their life. Some people try to keep their habits hidden - even from their spouse - while others flaunt it all around town, but both types typically have many emotional problems that come with cross-dressing, even in the modern world. This is where psychotherapy can help.
Classifications and Types of Transvestism
Many people will vary when it comes to the actual symptoms displayed, but these are some variations that are important to consider. For example, some men who cross-dress are attracted to men while others are still attracted to women. Yet others have no sexual attraction either way or desire both equally. Along with sexual orientation, there are typically different degrees of a person's attempts to mirror the opposite sex. While some may just wear panties or a bra in secret, others may have surgery to actually change their sexual organs. No matter what degree transvestism affects a person, it is important to consider therapy as a way to sort out issues before they become a huge problem. There is a good chance that the cross-dressing will have a negative impact on a person's relationships, which is another reason seeking the help of a therapist might be a wise idea.
Typical signs of being a transvestite:
Cross dressing
Social difficulties
Dressing to relieve stress or anxiety
Interpersonal problems
Therapy for Transvestism
From problems at work to trouble with relationships because of transvestism, there are many issues that come with this type of sexuality. This is why a lot of therapists on GoMentor offer online therapy for transvestism through our online platform GoMentor 24/7. These therapists are trained to help with everything that comes with cross-dressing. They can offer advice and support for dealing with this sometimes sensitive issue. From learning how to approach a spouse with the behavior to exploring sexuality in more detail, there are many ways that therapy can be helpful. Getting help with issues of transvestism does not have to take a lot of time or be a hassle.