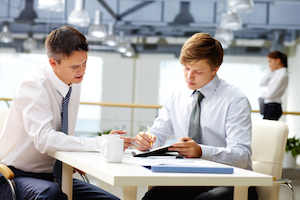 Although unemployment figures may at times be on the up, it is a widely accepted fact that in the long term, a shortage of qualified staff is one of the greatest challenges facing us today. Increasing globalisation means that we have to fight even harder to secure the human resources and organisational skills available, and in particular this means that companies must fight to develop and retain special talents.
Talented staff may be particularly skilled in management or project management, or they may be true experts in their professional fields; they may also be young persons who are newly employed, or more mature and experienced people. Basically, Talent Development is about safeguarding the conditions that enable your company to retain those employees who are able – perhaps in very different roles – to greatly influence how the company will develop further.
What is Talent Development?
Talent Development is all about developing and guiding those star employees who are able to contribute to the company's success and growth. Thus, the key to continued success lies not only in the ability to retain these employees in the organisation, but also in understanding, managing and developing their talents in the best possible way. A GoMentor partner in Talent Management can help your company accelerate the development of those staff who are uniquely placed to make exceptional efforts for their organisation. Through GoMentor 24/7, this partner can develop a long-term plan for targeted and strategic Talent Development.
Benefits of Talent Development
Ensure retention of talent
Develop "guiding stars"
Develop talented employees in areas of professional expertise
Increase innovation and capacity for change within the company
Improve the company's branding
Develop a plan for strategic Talent Development
Create the right conditions for expert Talent Management