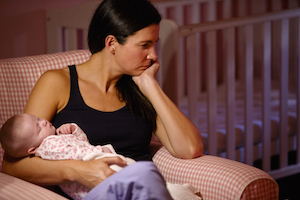 Postpartum depression doesn't happen to every woman that gives birth, but it is a serious problem for some new mothers. Some of the major symptoms of postpartum depression are having bad thoughts about the baby, suicidal thoughts, loss of energy, feelings of guilt, anti-social behavior and more. It is important to seek treatment if any of these signs of postpartum depression appear before more serious problems arise. On GoMentor.com, you can get help from skilled therapists who offer online treatment for postpartum depression and may be able to help.
Symptoms of Postpartum Depression
While they will vary from woman to woman, these are some of the common signs of postpartum depression:
Agitation
Irritability
Decreased appetite
Trouble with concentration
Feelings of worthlessness
Feelings of guilt
Anti-social behavior
Loss of energy
Negative feelings toward the baby
Thinking about death or suicide
Sleeping problems
As mentioned, if postpartum depression is left untreated, there is a chance it may blossom into a major depressive episode that brings with it many other dangers. In other extreme cases, postpartum depression may lead to mothers harming or trying to harm their baby. For others, suicidal thoughts may lead to suicidal attempts, which is dangerous. The good news is that all of these risks associated with postpartum depression can be avoided with treatment when the symptoms first appear.
Treatment for Postpartum Depression
It's important to understand the special needs of women facing postpartum depression. The conflicting thoughts of loving the baby and sometimes hating it are more than enough to drive some women to the brink or even over the edge, falling into a more serious mental illness. With psychotherapy and counselling, therapists at GoMentor 24/7 offer online treatment for postpartum depression that can help women deal with all the issues that come with this mood disorder. Depression happens to most people at one time or another, but postpartum depression is different and requires a slightly different approach to treatment. This is why the online therapy might be an option to consider.