Parent with Terminal Illness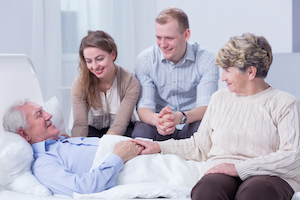 For most children, the death of a parent will become a defining moment in their lives. In cases where that death is the result of a terminal illness, how the family handles the overall situation can significantly impact not only the current emotional landscape of the family, but the long term emotional health of the children in that family. While it is certainly a situation no family wants to deal with, if it is approached in the right way, the experience can be as positive as possible.
Struggles for the Child
When faced with a parent who is dying, children can respond with a variety of emotions. Certainly grief and loss are prominent, but less obvious and perhaps more insidious emotions are also present. Anger can be a very serious reality, with children often lashing out anyone they can – including the ill parent. If they do not properly understand the situation, it is very easy for children to misinterpret death as a kind of abandonment. Another possible emotional complication is guilt. Many children will assume that bad things happen because they, themselves, are bad. Without proper care and guidance, children who experience a loss like this can easily become emotionally volatile.
Struggles for the Parent
Parents faced with a terminal illness not only have to cope with their own grief and pain while still catering to the needs of their child. Many parents have a hard time understanding how to tell their child what is going on or when to communicate important facts. Without open communication, an already emotionally taxing time can become even more difficult for everyone involved and taint the time a parent may have left with their child. Make sure to be open with your child, sharing any information they want to know in a manner you feel they are prepared for. Make these last days with them ones they will remember fondly.
Typical reactions of a parent with Terminal Illness:
Grief, anger, or denial about the seriousness of the situation
Difficulty communicating about death and disease
Being uncertain how much to tell a child about your disease
Having a child exhibiting signs of guilt, anger, or a lack of understanding
How We Can Help
Dealing with a parent who has a terminal illness is the emotional experience of trying to cope with the reality of prematurely losing your parent due to an unexpected and ultimately fatal disease. Navigating these troubling times can be complicated and put even more stress on a family that's already overloaded. With the help of online guidance, parents and children can both become better acquainted with what to expect. The trained counselors and therapists on GoMentor.com are sympathetic to your situation and want to help your family as best they can.