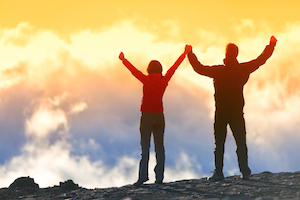 Setting goals is important for personal development, but without motivation, nothing gets done. When goals aren't achieved, there is no progress. This makes motivation an integral part of any personal development plan or any endeavor that is undertaken by a person to make their life better. While some people are naturally able to stay motivated all the time, life coaching may be able to help others learn how to motivate themselves as well as the people around them. Here at GoMentor.com, you can get help from coaches who offer online life coaching to help you with motivational techniques.
Tips for Getting (and Staying) Motivated
Keep it Real - People who set their goals too high may have a hard time reaching them, which quickly leads to giving up. Setting realistic expectations can make it easier to stay motivated as milestones are accomplished.
Chop it Up - Breaking large tasks into multiple smaller ones can also give a sense of accomplishment, which tends to help with motivation on many different levels.
Avoid Distractions - Recognizing distractions and eliminating them (legally!) is a good way to make sure motivation and focus are present more often than not.
Work / Reward - When a person accomplishes a task - large or small - a reward - again, large or small - should be enjoyed. This can help with motivation for the next task in the never ending chain of events that leads to success.
Online Life Coaching for Help with Motivation
Motivation refers to the energy or actions that are needed to achieve a goal. Without motivation a person may be unable to reach their goals, no matter how simple they might be. Life coaching can help teach a person to motivate themselves so that more can be accomplished. Here at GoMentor.com, we know that motivation is the key to success in life. This is why we offer online life coaching for this very issue with GoMentor 24/7. Here, you can get online coaching with coaches who specialize in motivation techniques that can help a person achieve their goals, no matter what they might be. Learning how to get motivated and stay motivated isn't a complex task, but a life coach can offer the assistance and support that makes it easier to achieve. Once motivation is mastered, a lot of other things in life begin to fall in place.
Benefits of Motivational Life Coaching
Positivity versus negativity
Passion
Energy
Ability to achieve goals