Management and Staff Development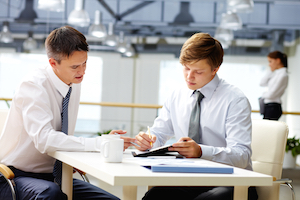 Nowadays, as a manager you are expected to do a lot more than produce bottom line results; you also need to be able to develop and motivate your staff towards a goal. Your management skills must include being innovative, dealing with conflicts and handling difficult conversations, as well as breaking the news of dismissal to employees in a sensitive manner.
The great demands facing managers of today, who are required to handle complex decision-making processes and aspects of development in a rapidly changing context, have led to increased pressure on the individual manager's ability to continuously renew and vary their management efforts. In order to meet their responsibilities, managers need to constantly challenge their members of staff, both on a personal and professional level. However, in order to achieve this, managers often need to challenge themselves as well. In many cases, the best way to meet this challenge is by getting assistance from someone outside the organisation.
What is Management and Staff Development?
A GoMentor partner specialising in Management Development is the ideal choice for a discussion partner. Management and Staff Development focuses on creating a safe, yet challenging forum for the development of each individual, where goals are clarified and strategies put in place. Likewise, many employees experience increased pressure with regard to their professional skills, effectiveness and time management. In addition, they also have to deal with the fact that social conduct and attitudes play an ever greater role, as these affect their colleagues and future career opportunities. Furthermore, staff members tend to believe that management is frequently under increased pressure and therefore less available and less supportive on a day-to-day basis. Many employees therefore feel that their job satisfaction and happiness at work have been affected, since there is less time available for discussion of their professional and personal development at work. In this situation, a GoMentor partner who specialises in Staff Development can make a real difference. Just sign up to GoMentor 24/7 today and get online coaching with a professional business coach.
Why Management and Staff Development is beneficial
Achieving greater self-awareness and self-management
Identification of goals and tools for staying focused on your goal
Defining roles and uncovering strengths
Career clarification
Optimising energy