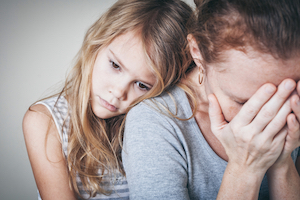 As with other forms of loss, the grief that accompanies losing a parent - or even both parents - can be quite traumatic and will generally proceed through several distinct stages of grief. From depression to guilt to problems sleeping, there are a wide range of physical and psychological symptoms that may appear. Dealing with the grief that comes with losing a parent does not have to be difficult. On GoMentor, you can get help from therapists who offer online therapy that can assist with all the issues related to losing a parent.
Signs of dealing with Losing a Parent
Guilt
Depression
Anxiety
Sleeping problems
Denial
Tips for dealing with Losing a Parent
Moderation - Crying and feeling emotions after losing a parent is natural and helpful in many cases. The important thing to remember is to look for the symptoms of depression. While sadness is okay during the grieving process, it has the chance of leading to major depression.
Family and Friends - Staying close to family and friends after losing a parent is an important way to strengthen family ties while at the same time make sure everyone involved is doing okay. Whether formal or informal, friends and family getting together is a good idea.
Journaling - For those who write, keeping a journal about the loss of a parent is a good way to balance the emotional strain of the death.
Ask for Help - While there are many positive things that can be done to help cope with losing a parent, unfortunately some people turn to alcohol or other drugs in an attempt to cope with the situation. This is why it is so important to ask for help if things start to spiral out of control.
Therapy for Help Losing a Parent
Losing a parent can be a very emotional and traumatic experience, no matter the relationship between a child and parent at the time of the parent's death. Because of this, therapy is recommended to help people deal with the issues that come with losing a parent. As mentioned, here at GoMentor.com, you can get online therapy that can help with all the emotions that come with losing a parent. Whatever stage of grief a person needs help with, the highly skilled professionals on GoMentor have practical advice and knowledge about the grieving process that can help. Dealing with losing a parent will be different depending on the age of the children, but even adults have trouble with this issue sometimes. Online therapy through GoMentor 24/7 is able to help people with psychotherapy wherever they might be as long as they have a high speed Internet connection. Sometimes talking to someone who specializes in grief and loss can make a huge difference in the healing process.