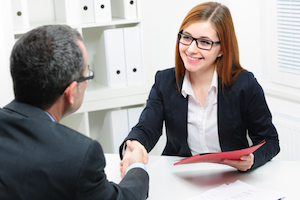 A job interview is one of the key processes of getting a job. While many people have no trouble with facing the interview, others may require coaching to help with the stress and anxiety that may impair performance during the interview. Here at GoMentor.com, our coaches offer online career coaching that can help with all stages of the interview process. Whether a person is just entering the workforce or has been employed before but is trouble having work, a career coach can offer practical tips and specific techniques that can increase the chances of having a successful job interview.
Job Interview Tips
Before the Interview - It's important to know as much as you can about the company you are trying to get a job with. This information can come in handy later in the interview process. It takes a little bit of time, but it's well worth it. Another important task before the interview is to practice some tough interview questions. Being prepared to answer any and every question can increase the chances of landing the job.
During the Interview - A person should dress appropriately depending on the particular job. In addition, keeping good posture, being polite, and maintaining eye contact are all important ways to appear better during an interview. A special haircut or extra time with makeup may really pay off. First impressions based on appearances do count. Remember to smile, but make it natural. No one likes a fake smile.
After the Interview - After thanking the interviewer in person, it's nice to follow up with a hand written note thanking them for the opportunity. This is where some people really jump ahead of the competition. It's a simple gesture, but it can separate a person from the pack.
Career Coaching: Job Interviews
All career coaches know that a job interview can be a very stressful but extremely necessary part of the job hunting process. This is why they offer online career coaching to help you with all aspects of the interviewing process. From before the interview to after the interview, there are many specific tips and techniques that can be learned. A career coach can offer this information as well as practical advice based on experience. On GoMentor you can get online coaching by signing up to GoMentor 24/7 with coaches that specialize in career issues, including the job interview.