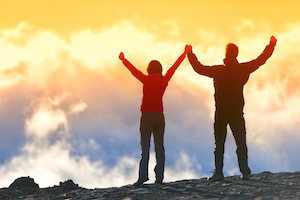 Goal-setting is a simple and basic task, but the power it has to change a person's life is immense. The problem is that most people never realize the important of setting goals until later in life. The good news is that it's never too late to set goals and stick to them. This simple process can help a person achieve things they never dreamed possible. While this easy task has such life changing possibility, many people have trouble implementing it in their life. This is where online life coaching for goal-setting here at GoMentor.com can help.
Benefits of Goal-Setting
Here are some of the very basic benefits of setting goals and following them through to completion:
More Motivation - People who set goals tend to be more motivated, which allows them to accomplish more. Increased motivation is a powerful force for being successful in life.
More Success - Along with being better motivated, people who set goals and stick to them generally experience more success in life. As you know, success may be defined differently by different people, but it comes with many positive effects.
Increased Satisfaction - Being more successful tends to increase a satisfaction a person has with their life. This increased satisfaction has many beneficial side effects that come with it.
Less Stress - More satisfaction can lead to less stress, which can help lead to a healthier life. People who are healthy have a better chance of experiencing mental disorders that may take away from happiness.
More Happiness - When a person is satisfied and has low amounts of stress in their life, they are generally happier. This is the Holy Grail for most people, even if it isn't attached to large amounts of money or power. Being happy in life is a worthy goal to strive toward.
Online Life Coaching for Goal-Setting
As you can clearly see, setting goals and moving toward them can have a huge impact on a person's quality of life. One of the benefits of online life coaching here at GoMentor.com is that it can assist people without time consuming office visits. Life coaching can learn a person how to set goals and stick to them. Using practical techniques that are easy to follow, the highly skilled life coaches on GoMentor.com can enable people to actually set goals and follow them through to completion. Sometimes just a little guidance is needed while others may require a slower pace. That's the beauty of the online life coaching which we offer through GoMentor 24/7, confidential and regardless of time and place.
With life coaching for goal-setting you will learn:
Setting goals
Techniques for goal setting
Following steps to reach a goal