Friend with Terminal Illness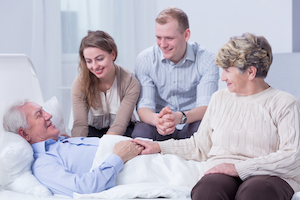 Having a friend who is diagnosed with a terminal illness can be an overwhelming experience for anyone. Without proper care and guidance, a friendship can easily suffer irreparable damage during times of extreme emotional distress. With the help of a therapist, you can learn how best to cope with the emotional stresses of having a friend with a terminal illness.
Struggles for the Patient
Any person diagnosed with a terminal illness will undergo a series of emotional processes to try and cope with their new reality. Often, this can leave their old life, and by extension their old friends, feel distant and foreign. They no longer feel like the same person, so someone expecting them to behave in the way they always have can be an extra stress that they don't need. What's more, they may resent friends who are healthy, as jealousy is an extremely powerful and understandable emotion. Communicating their own sense of distance and discomfort will likely help strengthen the bonds between the patient and their friends, encouraging people to talk to someone they trust as a way to emotionally cope.
Typical reactions of a friend with Terminal Illness:
Intense feelings of guilt, grief, or even relief
The desire to help and feeling ill-equipped to do so
An overwhelming desire to remove yourself from the friendship
Feeling isolated or misunderstood
Struggles for the Friend
Being friends with a terminally ill patient can be difficult because it also causes a myriad of emotions, but many people do not easily reconcile the healthy person's right to feel strongly about the situation. It is important to remember that grief, guilt, and relief are all perfectly natural emotional responses that deserve validation. What's more, it is often helpful to share these feelings with someone, perhaps even the ill friend. Acknowledging these emotions can make them seem less overwhelming, and talking to your friend will help you both feel connected during a time when your friendship might otherwise suffer. As always, remember to be patient and open.
How We Can Help
Dealing with a friend who has a terminal illness is the emotional experience of trying to cope with the reality of prematurely losing your friend due to an unexpected and ultimately fatal disease. GoMentor.com offers a plethora of services to help terminally ill patients and their friends navigate the new waters that they now find themselves in. No one wants to lose a friendship, especially at such a delicate time. By seeking guidance and help from a highly skilled professional who specializes in grief, you can both get help to get the most out of the last days of your friendship without regrets.