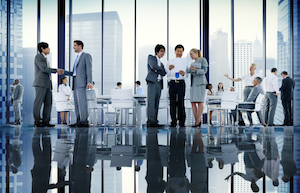 In the business world, being able to communicate skillfully is an art and a science. Even if a job doesn't require too much communication, being able to interact and listen to fellow workers is important for being productive in the workplace. Here at GoMentor.com, you can get help from highly skilled business coaches that offer online business communication that is specifically tailored to help with improving communication skills. There are many methods that can improve communication skills, but sometimes it takes someone who has experience in this business issue. While online business coaching may be a good idea, there are some basic things that can be done to improve communication skills a little bit in the short term.
Tips for more Effective Communication Skills
These are some basic ideas to help a person communicate better:
Different Points of View - Learning to deal with different points of view is one of the most important skills to be able to communicate effectively.
Active and Passive - Understanding the differences of these two types of communication can go a long way in improving overall communication.
Confidence - Some people have trouble being confident when they speak or communicate, which can lead to many sorts of problems.
Body Language - Being able to understand body language correctly is another important part of communication in the modern business world.
Work with Strengths - When a person can learn to work with their communication strengths rather than worrying about their weaknesses, it can improve communication.
Many other tips and techniques are available to help people communicate more effectively. For people who need a little more concrete assistance, business coaching can help with the specifics of improving communication skills.
Business Coaching: Communication Skills
For people who want more practical tips and advice, online business coaching here at GoMentor.com may be the answer. The coaches on GoMentor.com offer a complete system to help people be able to communicate better. By starting with defining clear goals, a coach can offer tailored support to help a person become better at communicating with customers, peers, and superiors. There are many concrete benefits of having a work force that can communicate well. A business coach can help lay these out as well. Sometimes even learning one or two techniques to become better at communicating can have a drastic effect on a person's work life. Communication skills enable a person to more effectively deliver a message. Better communication skills can enable a person to achieve more in the business world. This is where a business coach through GoMentor 24/7 can help you.
Benefits of Communication Skills
Better verbal communication
Better listening skills
Better nonverbal communication