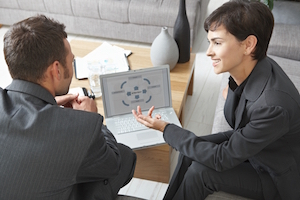 Supervision is a method used to improve the overall standards of mentoring, coaching, and psychotherapy. While the latter mental health professionals have had the advantage of supervision for a while, coaches and mentors have recently become the focus of many discussions about supervision. Mental Health groups around Europe are adding sections about the need for supervisors to their code of ethics. Standards and regulations are still being discussed and debated, but that shouldn't stop you from learning more about supervision and how it may affect how you practice in the future. After sharing a short history of supervision for mental health professionals, we will go over why this process can be so beneficial. Finally, we will explain why a community of practitioners is such a good idea.
Short History of Supervision for Mental Health Professionals
The idea of supervision - having a mentor with experience helping - has been a part of the mental health field for a few decades now. However, when it comes to coaching and mentoring, the idea is just now being implemented. Over the years, it was found that mental health workers who were able to step back and talk about their work with other professionals were able to better deal with the stress of the job. In addition to emotional and professional support, supervision allowed for furthering education and professional development. These are the main reasons that supervision has become so popular for therapists and psychologists. These are also the reasons that the idea of supervision is being brought to the world of coaches and mentors.
How Supervision Helps
The exact benefits will vary from person to person, but these are the three main functions of supervision according to Alfred Kadushin:
Education - At its core, supervision enables a person to further their education in the field. Whether for people who think they don't need any more education or those who want help with a particular difficult subject matter, a supervisor can help.
Support - Both emotional and practical day to day support are both provided by a good supervisor, which can have a dramatic difference on the way a therapist or coach is able to grow as a professional.
Administrative - In addition, supervision allows coaches, psychologists and therapists the chance to learn tips and techniques that can help maintain great work standards.
Beyond these three general areas, there are other ways that supervision can help, depending on the individual. This can involve areas such as:
Increasing professional knowledge
Overseeing professional development
Learning to listen to feedback from clients or patients and respond to it
Practicing effective communication with peers
Psychological Training and Supervision
As for who performs the supervision, there is currently quite a bit of talk about what the qualifications should be to take on a supervisor role. For example, some coaches rely on methods other than psychological evidence to help people with their life. With proper supervision in place, coaches without a mental health degree can learn to look at the individual and particular mental problems that may help a person's situation. This can be beneficial for many reasons. On the other hand, there are many coaches and mentors who have no background in psychology but are still able to help people.
Guidelines for Supervision are Changing
While there are no clear cut rules or regulations at this time, some mental health professionals in the UK are required to have a supervisor in the early years of their practice. The European Mentoring and Coaching Council (EMCC) and other groups have put supervision into their Code of Ethics. As for the amount of supervision that is needed, this number is not firm either, but in general many believe that 1:10 is a good ratio - with a therapist seeing a supervisor one hour for every 10 hours of practice. This number does vary depending who you ask - from 1:8 to 1:15 in some cases.
Who Does Supervision Help?
While supervision is primarily concerned with helping therapists, coaches, and mentors, there is the added side benefit of helping the clients of these people. The idea of supervision for professionals who work in the mental health field has been around for a while, but in the 21st century it is becoming even more important. As guidelines and regulations are put into place, those coaches, mentors, and therapists who are already working with a supervisor are sure to do well as they continue doing what they do - only better.
A Community of Practitioners
There are many benefits for an individual who has weekly supervision, but on a larger scale, there are many positives for the community as a whole. From patients to other practitioners, supervision can provide extra support from peers with more experience. There are regulations being discussed for coaches and mentors needing a system of supervisors, but many of these people (who are really concerned about helping their patients and clients) are already utilizing this system to help.
At GoMentor.com we have many professional coaches with great experiences and specialise within a wide range of areas, who can help you regardless of your situation.