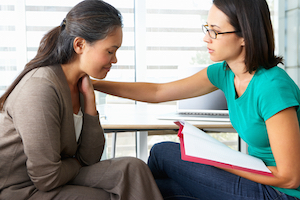 The main thesis in gestalt therapy is that human beings are dynamically changing and always responsible for their life. As human-beings we make self-regulating adjustments as a result of our experiences in the present moment, the therapist–client relationship, the environmental and the social contexts of our lives. This reciprocal influence changes both a person and the environment continuously, and also the personality formation process that is occurring all the time and not only during childhood.
What is gestalt therapy?
Gestalt therapy is a psychodynamic and experiential form of psychotherapy where the therapist is using the whole body and mind during the therapy. The therapist confronts the client verbally by expressing his or her feelings to the client. The client-therapist relationship has a central role as the gestalt therapist is neither objective or neutral but is willing to encounter the client. The therapist is using methods which aim to create awareness of the client's feelings, reactions and actions. This gives the client the opportunity to acknowledge and see which choices he/she has, and what the consequenses of these choices may be. The therapy itself is built on a belief about increasing self-awareness in the moment when the client and therapist meet each other. Gestalt therapy is suitable for those who want to develop themselves personally or who have mild mental problems.
How can gestalt therapy help?
Gestalt therapy can be successfully used into therapy to help adults and teens in the following:
Substance abuse, addiction
Behavior disorders
Mood disorders
Eating disorders
Grief/loss
Trauma
Sex addiction
Compulsive gambling
Bipolar
Depression
At GoMentor.com we have many verified psychologists who can help you with any psychological issues that you are struggling with.