Unspecified Somatoform Disorder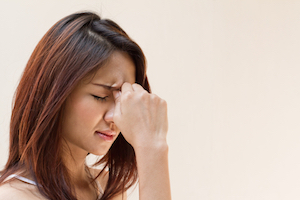 When symptoms appear from two or more different types of somatoform disorders, this is the diagnosis given. The unspecified nature of this disorder means that the symptoms are going to vary, but in general they center around complaints about pain that have no medical cause. When not treated, serious complications may arise as a result of unspecified somatoform disorder. This is why you can get help from therapists who offer online treatment here at GoMentor.com. If any of the symptoms below are seen, it may be time to get a diagnosis so that treatment can begin.
Symptoms of Unspecified Somatoform Disorder
Because of the unspecified nature of this somatoform disorder, the symptoms may vary wildly from person to person, but they generally may include an extreme fear of having a serious medical illness, loss of sight or paralysis without a physical cause, and chronic complaints about pain. Another common indicator of this disorder is that the pain will not be able to be diagnosed medically.
Chronic complaints about pain or other symptoms
Extreme fear of having a medical illness that lasts more than six months
Loss of voluntary motor abilities or a sensory function that is not due to medical illness
Constant pain in one or more anatomical spots
Preoccupation with an imagined defect
When repeated medical tests come back negative, a person may still insist that the problem is not in their mind only, making it more difficult for them to see that treatment is needed. If this happens, the problem may start to get worse or lead to other mental problems. Another risk is that an aversion of doctors will form, causing people to avoid getting real medical help that they might need. Finally, as with other somatoform disorders, there is a chance that a person affected may become addicted to medications. Because of these risks, noticing the symptoms and getting treatment when necessary should be a top priority.
Treatment Unspecified Somatoform Disorder
While some doctors or health professionals might not take unspecified somatoform disorder seriously, the trained therapists at GoMentor 24/7 know that it can be a serious problem that has real consequences for people with the disorder. This is why you can get online therapy and counselling with trained therapists who offer guidance and information about somatoform disorders and how to deal with the symptoms that come with them.