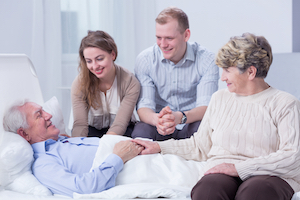 Whether you are a patient or know someone who is dealing with a terminal illness, there can be many difficulties that arise emotionally and even physically for some people. Learning to cope with death comes at different times in life for most people, but whatever the age there are symptoms that may appear if coping mechanisms aren't healthy. Here at GoMentor.com, you can find therapists who offer online therapy and counseling for those diagnosed with a terminal illness and those who have loved ones going facing an incurable disorder. Dealing with a terminal illness may be easy for some, but others may need help, guidance and emotional support to get through the event without lasting scars. Grief is a good and natural part of the human existence, but if a person doesn't know how to properly grieve, it may cause problems. Also, facing death may change behavior - in a negative way - for some people. Either way, there is help for dealing with a wide range of terminal illnesses.
Symptoms of Terminal Illness
Feeling isolated and misunderstood
Feelings of intense rage and injustice
Dealing with overwhelming grief
Feeling ill-equipped to deal with the situation
Denying the reality of the situation
Grief
Anger
Denial
Exhaustion, anxiety, or intense fears
Stress when dealing with health issues
Depression
Dealing with a Terminal Illness
There will be different methods for dealing with terminal illness depending on who is involved. In addition, cancer sometimes brings with it special circumstances that can be difficult to deal with:
Children with Terminal Illness - Because of their age, children facing terminal illness will need special attention and help to avoid have long lasting problems that follow them into adulthood.
Parent with Terminal Illness - If a child or even an adult is facing losing a parent, it can bring with it many emotional difficulties. Learning to deal with them is important so that other disorders do not develop.
Spouse with Terminal Illness - A spouse being diagnosed with a terminal illness can cause turmoil for even the steadiest relationships. Sometimes getting outside help can make all the difference in getting through this situation with a relationship stronger than it ever was before.
Cancer - There is no cure for cancer, but chemotherapy and other treatments can prolong life. This can bring with it additional difficulties, however.
Friend with Terminal Illness - Dealing with a friend who has a terminal illness can be difficult because you may be close but not too close. Even close friends may suffer through times of trouble when dealing with a terminal illness.
Therapy and Counselling for Dealing With Terminal Illnesses
A terminal illness is a disease or sickness that has no known cure and that will result in death. Therapy and counseling for coping with the emotional aspects of terminal illness is recommended. As mentioned, here at GoMentor.com you can get online help for dealing with everything that comes with a terminal illness. The issues relating to death and moving on are numerous and complicated. This is why it is helpful to get assistance and guidance from trained therapists who specialize in dealing with death and incurable diseases. You can even book online therapy sessions with therapists who can help dealing with cancer - either facing the chemotherapy or facing losing a loved one. Some people may be able to cope with death without help, but there is nothing wrong with asking for assistance.