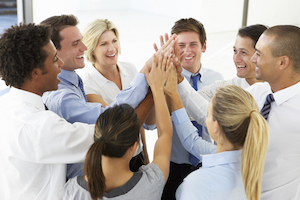 Successful teams are essential for any company wanting to increase the levels of job satisfaction among its staff as well as improve the bottom line. Therefore, we should all ask ourselves this question: are we really creating the collaborative environment and the results that we want, or is there perhaps room for improvement?
What is Team Building?
The results of any team depend on the attitudes and actions of the individual team members. Putting six professionally talented and skilled people together is not enough – the success of a team depends on the combined efforts and interaction of its members. This is a factor which is often ignored when we recruit new staff or put together teams of existing employees. For these reasons alone, we have much to gain if we start operating with well-attuned teams.
An experienced GoMentor partner who specialises in Team Building can assist in a number of ways; for instance, by conveying knowledge about various team roles and by focusing on the strength in diversity within a team. This will help to put managers and staff as well as entire companies on the road to success, regardless of whether their goal is to create better bottom-line results or to achieve greater co-operation, job satisfaction and responsibility. Team Building means exactly what it says: creating a team and making efforts to develop it further. Team Building can focus on both personal development within the team and the shared task of building and maintaining the team as a whole. Sign up to GoMentor 24/7 and get online coaching to help your company with building your teams to achieve a greater job environment.
Benefits of Team Building
Stronger and more efficient teams
Greater awareness of your own and others' team roles
Clarification of what contributions to the team are most needed
The chance to develop and train the team, and to perform the right tasks in the right way
The chance for each team member to learn about their own and the team's combined strengths
Constructive dialogue about a specific division of tasks or any work processes that must be prioritised