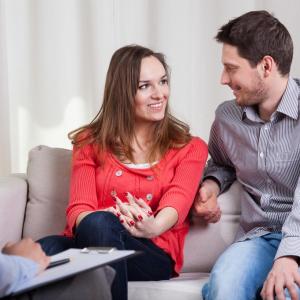 What is a sexologist?
A sexologist is a therapist who can advise and give you personal insight into sexological issues. It can be caused by low self esteem or lack of confidence in one of the partners. This can happen periodically if the spark between two partners disappears, they have children, or are both struggling with stress, anxiety or depression. There are many reasons why these issues appear in a relationship - but don't let it discourage you! With a sexologist it is possible to get to the bottom of the underlying factors, which have a great influence on the issues you are struggling with. In that way you can get guidance and advice, which will make it easier to resolve issues and get your sexlife back on track - or better!
How a sexologist can help you
Whether you are single or in a relationship sexological counselling can strengthen your sexual identity and help you moving forward in your personal development. A session with a sexologist requires knowledge and interest in communication, sexual issues and couples therapy which is obtained through education and clinical experience. Being a sexologist is not a protected title and therefore there are no formal requirements for education or therapeutic experience.
The following are typical sexual issues:
Reduced or lack of sexual desire – Lack of sexual desire or fantasies

Sexual aversion – Avoidance of sex which typically is caused by serious problems in the relationship. The posibility of sexual intercourse may cause panic attacks in one or both partners

Female sexual dysfunction – A woman's issues with wetness and swelling of the genitals during sexual intercourse

Erectile dysfunction – A man's lack of ability to get erection

Female orgasmic disorder – Inhibited orgasm in women

Male orgasmic disorder – Inhibited orgasm in men or the lack of getting active orgasms

Premature ejaculation – Problems with rapid ejaculation in men

Dyspareunia – Physical or mental pain during sexual intercourse

Vaginismus – Involuntary spasms in the muscles around the vagina

Hypoactive sexual desire – Formerly know as nymphomania when a person is obsessed of the thougt of sexual activity which can be devastating to the rest of their existence

Unspecified sexual dysfunction – When a person shows symptoms of one or more sexual dysfunctions but the cause can't be determined as only one
If you recognise any of the symptoms above, it is good idea to get a sexologist or a couples therapist who can help you with the suitable speciality and experience you need.
At GoMentor.com we have sexologists who can help you with any sexological issues that you and your partner are struggling with.