School Deadlines and Exams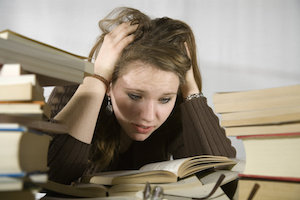 Often a cause of extreme stress and worry, deadlines and exams can often be a huge stumbling block in a teenager's daily life. With the pressure mounting year by year as graduation looms closer and the overwhelming feeling that everything is riding on the next text or final paper, it's no surprise that more teenagers every year are reporting signs of being under extreme emotional and mental stress. Without help and guidance, it becomes all too easy for many teenagers to just give up, throwing away their grades and in some cases, their futures.
Struggles for Teens
It is important for the families of teenagers to remember that stress isn't something your child can just shake off. High school is already an extremely high pressure situation where kids are forced to deal with peer pressure, fluctuating hormones, and the possibility of making major life decisions before they feel ready. Add in the constant stress of being expected to perform on demand academically and you have a pressure cooker of stress that can easily become overwhelming. This stress can have an isolating effect, causing teens to think that their parents or loved ones really don't understand the problems they are facing – even if they had to do it when they were younger. The stress can easily affect their academic performance, their relationships, and their social lives. With continued stress playing a major part in their lives and no way to cope with it, teens can easily become depressed, develop headaches, stomachaches, or have trouble sleeping.
Anxiety related to schoolwork and exacerbated by tests or papers and deadlines
Repeated headaches or stomachaches
Trouble sleeping
Reluctance to go to school or deal with any academic subjects
Stress Management
Many adults tend to forget that stress management tools are not innately known, they are taught. Without properly preparing your child to be able to deal with the constant pressures of high school, their future stress management abilities can be in serious jeopardy. Here at GoMentor.com, we encourage parents to make certain that their children are eating well balanced meals, stay away from caffeine, and getting enough sleep. Exercise can also help alleviate the symptoms of stress.
How We Can Help
At GoMentor.com, our trained professionals understand that stress is no laughing matter. With online therapy, you can learn how to properly maintain your stress even in the face of academic deadlines and tests. Coping mechanisms like making lists and paring down your activities are easy skills to learn. What's more, with guidance you can learn that you are in control of your life, even when it doesn't feel that way. Sign up to GoMentor 24/7 today and get online help regardless of time and place.