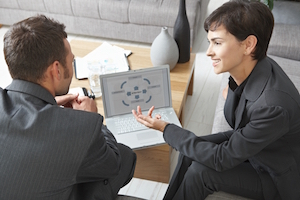 There is nothing like the feeling of closing a deal and making the sale. The thing with sales is that there is always room for growth. Even the best salesperson knows that they must always be learning. From new ways to find leads to better techniques for closing the sale, there are many specific tips and tricks that separate the good from the great salespeople. Here at GoMentor.com, you can get online coaching with skilled business coaches who offer online sales coaching that can help salespeople at all levels of experience.
Ways to Help a Sales Staff
While there have been numerous books written about sales, here are a few tips that may come in handy:
Cold Calling - This can be a frustrating experience, but the best salespeople know that cold calling can sometimes be a source of opportunity. Learning to improve success with cold calls to businesses can improve overall sales numbers.
Qualified Leads - Learning how to better utilize qualified leads can also help increase total sales in a company. From learning what exactly makes a lead qualified to hunting down sources of qualified leads, there are many things that even the best salesperson can learn.
Closing the Sale - Even with the best opening, without being able to close the sale, a salesperson is not worth very much to a company. There are many techniques that can be used to help a salesperson close more sales, making more money for a business.
Sales and Time Management - The most successful salespeople are those that know how to best manage their time. Everyone has the same amount of time available, but there are those who seem to always get more done. Learning time management techniques can really improve sales.
Improving the Numbers - By setting goals for salespeople to achieve - and rewarding them when they do achieve them - it is easy to create a moving target that has a sales team constantly striving to improve and increase their numbers.
Remember that a business coach can help flesh out these general ideas as well as give more specific and concrete directions on making the sale.
Business Coaching: Sales Coaching
Sales coaching is counseling that targets helping a person be able to make a sales. From the initial sales pitch to closing the deal, a business coach can offer a lot of practical advice on how to be better at sales. Whether it is a rookie sales force that needs indoctrinated with how to sell properly or a seasoned sales staff that isn't sure they have anything else left to learn, online sales coaching via GoMentor 24/7 can be very beneficial. You can get online coaching with talented business coaches who specialize in sales. From how to find better qualified leads to landing the sale to everything in between, they can help salespeople of all skill levels make more sales. Because the sales coaching on GoMentor is available online, even the busiest sales staff can benefit.
Benefits of coaching for Sales Coaching
Cold calling
Finding leads
Closing the deal