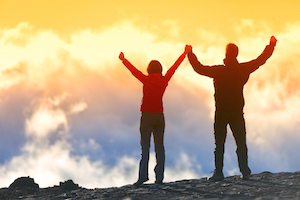 Everyone has different goals in life, but one thing most successful people have in common is the fact that they had a plan and stuck to it. Perseverance is an important part of being successful in life, no matter how a person defines success. Some people may measure it with material wealth, power, or possessions, while others weight their success on the quantity and quality of their friends. Online life coaching here at GoMentor.com can help a person no matter what their exact goals are for the short term or long term.
Tips for Personal Development
Here are some very basic tips to help with personal development:
Set Goals - Setting goals down is a powerful way to take control of your life. There is only so much time available, and how you use what you're given is important if a person wants to achieve everything they desire.
Accomplish Goals - After setting goals, making sure to accomplish them is the next step. This is where some people need a little extra help.
Be Focused - A laser focus is vital for a person to be able to accomplish tasks and move forward in their life.
Have Fun - This is an important and sometimes forgotten aspect of personal development. If all the "work" of being a better person isn't fun at all, what is the point?
While these ideas are very basic in nature, they can help a person change their life. For those who need a little more assistance and hands-on examples, life coaching is a good idea.
Online Life Coaching for Personal Development
Personal development is the way in which a person becomes better during the course of their life. For some this may mean career advancement while for others it may mean having a healthy and happy family. No matter the goals, life coaching can help with personal development. While there is a lot a person can do on their own to improve their lot in life, online life coaching through GoMentor 24/7 can enable a person to be even more effective in their attempts to be successful in life. The highly skilled coaches on GoMentor.com realize that the definition of success is going to be different for different people, which is why they approach each person as a person. This approach to life coaching is made even more powerful by being available online. With a little emotional support and wisdom gained through experience, a life coach can help a person achieve all of their dreams - or at least get them headed in the right direction to reach them.
Benefits of Personal Development Coaching
Setting goals
Furthering education
Career advice
Social development