Male Erectile Disorder
Written by GoMentor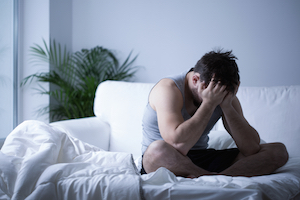 If a man has a problem getting an erection once or twice, it should not be automatically diagnosed as male erectile disorder. For this sexual dysfunction to be diagnosed, the problem has to persist for a long period and have serious negative effects on a person's life. Stress is one cause, but there may be other physical or psychological factors at play. Before letting male erectile disorder lead to other problems, it makes sense to consider the online therapy available here at GoMentor.com. There are many risks associated with the loss of the ability to achieve or maintain an erection, including serious emotional disturbances that may be caused by the problem.
Symptoms of Male Erectile Disorder
When a man has a problem achieving or maintaining an erection until the end of sexual activity and it has negative consequences in their life, it is a big sign of male erectile disorder. This sexual dysfunction can also appear in other ways, manifesting as emotional distress about the situation and other interpersonal problems. The symptoms may be difficult for outsiders to see because of the personal nature of sexual activity for most people, but it is important to look for them so that the dangers associated with this sexual dysfunction can be avoided.
Inability to achieve an erection
Inability to maintain an erection until completion of sexual activity
Interpersonal problems
Distress about the situation
Causes of Male Erectile Disorder
Some of the psychological causes of male erectile disorder may be a fear of failure, stress, or a big event that occurs in a person's life. Some of the physical causes include problems with blood flow into the penis or other parts of the male genitalia. Some men have a combination of physical and psychological causes, although this is not always the case. Knowing the exact cause of the disorder is important for any treatment to be successful. Before the cause of male erectile disorder is known, there are various signs that may appear, pointing to a problem.
Treatment for Male Erectile Disorder
Many men may feel embarrassed about this sexual dysfunction, which is why the online therapy for male erectile disorder with GoMentor 24/7 is so helpful for treatment. We combine the communication powers of the Internet with proven psychotherapy that can help with all the symptoms of male erectile disorder. Emotional support and guidance by trained therapists and sexologists who specialize in sexual dysfunctions can be a winning combination for treatment of male erectile disorder.