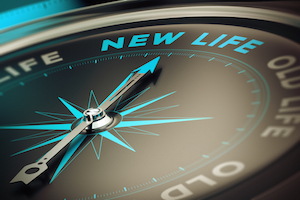 There are many transitions that we go through in life. While some are good and some are bad, they are all usually intensely emotional and sometimes stressful situations. Many people are able to manage dealing with a major life transition on their own, but there is help available. Learning to deal with life transitions, moving from being single to being married for example, can be a complicated and emotionally taxing series of events. Life coaching can help a person deal with all the emotional difficulties they may face during a life transition while also learning how to more effectively deal with them in the future. Online life coaching here at GoMentor.com is one recommended option.
Types of Life Transitions
These are some common life transitions that people have trouble with:
Marriage

- Whether it is a first marriage or a subsequent marriage, there are many issues that can arise for everyone involved. Sometimes couples find it helpful to get a little coaching about how to get through the wedding intact.

Leaving home

- When a child leaves home to move out on their own, it can be difficult for the parents and the child. Life coaching can give a family the extra support needed to make sure this milestone is passed with no problems.

Moving

- Being relocated can be stressful on parents and children. For those who need a little extra guidance on how to make it through a move, life coaching can offer practical advice and tips on making a move less stressful and learning to make the best of a new location.
Death - To experience a close family member or friend dying can be very difficult to deal with both yourself and the people around you. Many people are also struggling with how to talk about their feelings and deal with their grief.
There are, of course, other situations and events that will affect people differently, but life transitions can be stressful periods to go through. This is why life coaching is recommended.
Life Coaching for Life Transitions
Facing a crossroads of any sort in life can be a difficult and challenging experience. With online life coaching here at GoMentor.com, the whole process can be made a little easier to deal with. On GoMentor.com you can get online coaching with coaches who specialize in life transitions and helping people deal with all the emotional issues that come with them. Sometimes just being able to talk to someone about a situation is enough to make it less of a problem. This is why we offer our life coaching online through GoMentor 24/7. More people can benefit from the solutions and help that the coaches on GoMentor.com offer for dealing with life transitions, whatever the specifics might be.