Generalized Anxiety Disorder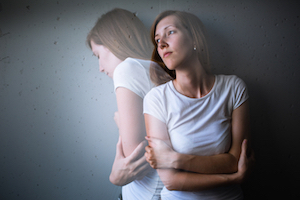 Generalized anxiety disorder is a mental illness that causes people to become extremely worried or anxious over events in their life, often irrationally. While the exact causes of generalized anxiety disorder are not known, but both biology and psychology are thought to play a role in this mental disorder. Symptoms of GAD include sleep problems, restlessness and irritability, headaches, shakes or tremors, as well as other physical and mental problems.
Left untreated, generalized anxiety disorder may result in depression, substance abuse, or other problems. This is why we help you finding therapists that offer online therapy for generalized anxiety disorder here at GoMentor.com. Before getting into how we can help with GAD, here are some more facts about this anxiety disorder. Some may think that this disorder is not as serious as others, but this is a critical mistake for many reasons.
Symptoms of Generalized Anxiety Disorder
The symptoms of generalized anxiety disorder are generally milder that some of the other anxiety disorders, but that doesn't mean they're not serious and sometimes frightening to deal with. People with this disorder will generally experience extreme fatigue and a lack of energy. Restlessness and irritability are also commonly exhibited. Many will also experience trouble sleeping, headaches, shakes and tremors. All of these physical symptoms can be terribly difficult to deal with.
Fatigue
Irritability
Sleep problems
Headaches
Lack of concentration
Lack of concentration and an inability to focus are also signs of generalized anxiety disorder. In addition to the physical symptoms, there are also many emotional aspects of this disorder. The sometimes mild nature of the symptoms does not mean that treatment is unnecessary. In fact, the risks of substance abuse, depression or other problems arising as a result of generalized anxiety disorder are real enough that treatment should be considered as soon as the symptoms are recognized.
Treatment for Generalized Anxiety Disorder
Here at GoMentor.com, we understand that time is a problem for people - even those with anxiety disorders. Taking that first step toward treatment can be especially difficult for people who have problems with panic attacks and anxiety in general. This is why the online therapy for generalized anxiety disorder that is available through GoMentor.com is so exciting. Our professional partners offer online psychotherapy and cognitive-behavioral therapy through GoMentor 24/7 - just sign up today and get confidential help regardless of time and place.