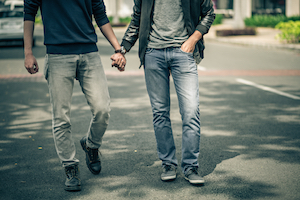 Gay and lesbian couples who raise children will face many distinct problems associated with their sexual orientation. This is why many people seek therapy to help deal with all the issues that come with being a gay parent. Some may have difficulties determining responsibilities when it comes to the children. Issues like discipline and comforting may be performed by both parents, but it can sometimes cause problems for even the happiest and most balanced couple. There are many other issues that face gay parents as well.
Dealing with Issues of Gay Parenting
Learning to navigate the waters of raising a child is difficult on its own, but there are many other problems that may arise for gay or lesbian parents:
Teaching Sexuality - While some gay parents may tend toward teaching their own sexuality, it is important for a child to be able to develop on their own sexually without too much overt (or even obvious) coaching by gay or lesbian parents. Children should be allowed to develop sexually without too much regard for their parents' sexual orientation.
Parental Responsibilities - While some gay couples may be able to equally distribute the responsibilities and duties of raising a child, there are occasions when it may become difficult for them to take on typical roles of parents - mom and dad - without confusing the child. As with any parents, the safety and well being should always be put first.
Why do I have Two Mommys? - This question works the other way as well - two daddys - but it is something that most curious children will want to discuss at some point. Having a plan in place to deal with this conversation can make sure it goes smoothly.
Therapy for Gay Parenting
Online therapy can help gay and lesbian parents raise their children successfully. There are many issues that affect gay parents differently than other couples, but the trained therapists on GoMentor.com should be able to help. They specialize in gay and lesbian issues and parenting, and they can give the support, guidance, and information needed to successfully raise a child. Just sign up to GoMentor 24/7 and we will find you the right mentor match. Sometimes the issues have more to do with other people, but even this affects families, which is why therapy is recommended even for well balanced and happy homosexual couples.