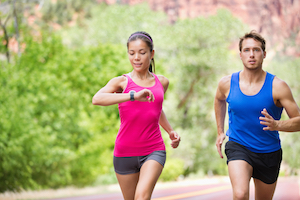 Having a fitness plan is an important part of staying healthy. The human body is a complex machine that requires constant maintenance throughout life. Fitness needs - and abilities to do certain activities and exercises - will change during a person's life, but fitness and exercise should be a part of everyone's daily routine. While some people have no trouble coming up with a fitness plan and sticking with it, others find it more difficult. Fitness coaching is a set of methods and tips that teach a person how to effectively exercise to lose weight or stay in shape. Fitness coaches can also offer a person emotional support to stick with an exercise routine day after day. The online fitness coaching available here at GoMentor.com can help both types of people. Coming up with a proper fitness plan and sticking to it no matter what can be a difficult task.
Self-Help Fitness Coaching?
Some people may believe they're able to come up with a fitness program on their own and some may be able to pull it off, but sometimes getting help from someone with more experience is a good idea. If a fitness routine is too tough, there is a possibility of doing physical damage to the body. And if the fitness plan is not tough enough, there may be no results. Walking - or running or leaping - this fine line is difficult for many people. It is easy to sway too much one way or the other. Finding a perfect fitness balance is important. This is where fitness coaching comes in.
Main reasons for having fitness coaching:
Safe exercises
Fitness for losing weight
Fitness for general health
Online Fitness Coaching at GoMentor.com
Here at GoMentor.com, you can get online coaching sessions with highly skilled coaches who specialize in fitness. From offering techniques to stay fit to help with the emotional support needed to stick to a fitness plan, the coaches on GoMentor can assist people of all ages. The exact fitness goals are going to vary for person to person but everyone can get help to come up with a personal plan that will work best for them. The benefits of having a fitness plan and staying healthy are more than worth the cost of getting help from a fitness coach. With practical advice and experience, a fitness coach can make living healthier with exercise a little bit easier.