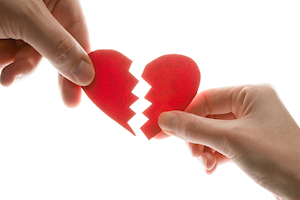 All people treat a divorce a little separately, but there are many common emotional stages that people go through. From the first thought of divorce, when it seems a distant reality to the actual divorce proceedings in court - that can sometimes get ugly, especially if children are involved - there are many different periods of a divorce or break-up that must be dealt with. Some people have an easier time with the whole process, being able to internalize the situation or use some other method to deal with the emotions that come with a divorce. When children are involved, it can be even more stressful and complicated.
Causes and Signs of Divorce or Break-Up
When relationship problems develop and aren't taken seriously, there is a good chance that a divorce or break-up will occur when two people are unable to work through their differences in a productive manner. The exact type of problem will vary - everyone has a different tolerance - but when they end in divorce or a split, there can be many emotional difficulties to deal with. These typically follow a pattern, with one emotional state leading to another. Depending on the exact relationship problems that caused the divorce, there are many ways to learn to deal with everything that comes with a divorce in the modern world. While the societal stigma attached to divorce isn't as strong as it once was, there are still many who struggle with all aspects of a divorce.
Typical signs when you're going through a divorce or a break-up:
Depression
Anger
Exhaustion
Guilt
Getting Help with Divorce / Break-up
A divorce or break-up happens when two people decide to call it quits and end a relationship due to their differences. Learning to deal with the emotional pain of a divorce - especially if there are children involved - can be made easier with the help of the proper therapy and coaching. If there are children involved, it is a good idea for both partners to get therapy, with a concentration on ways to help make the whole process easier for the children. Here at GoMentor.com, we understand that this is not possible in every case, which is why "our" therapists are trained to deal with a variety of situations. Sorting through the emotions after a break-up can be a complicated and frightening experience when it is done alone. The therapists on GoMentor.com can help everyone involved in a divorce make the best of a bad situation. Furthermore, they care about the details and they are interested in utilizing online therapy as a way to help people deal with all the issues that come with a divorce. Remember that a divorce can be the start of a new chapter in life as much as an ending of another.