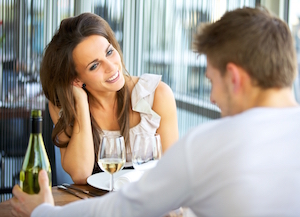 While dating has always been a stressful and yet exhilarating activity, there are many issues specific to dating in the 21st century that should be considered. Knowing proper dating etiquette in a world of cell phones and emails can go a long way in making dates enjoyable and not disastrous. Dating coaching can help a person deal with the modern dating scene. With the introduction of Internet dating and other modern forms of communication, there are many issues that people may need a little help with. A dating coach can offer the guidance and support needed to navigate the modern dating world. We have different coaches who offer dating coaching online here at GoMentor.com.
Dating in the Information Age
It is easier than ever to "meet" someone thanks to the Internet and other forms of communication, but with the convenience comes many risks. With that in mind, here are some basic dating tips to keep in mind.
Move Slowly - Being patient and letting a relationship grow naturally can go a long way in not scaring away a potential partner.
Listen Carefully - Listening carefully to a date - especially if they're not known well yet - can be a great way to make sure they're happy at all times.
Be Safe - Safety should be at the top of the list of your dating priorities. Only give out personal information after having met in a public place once or twice.
From online dating websites to looking at classified ads all over the Internet, there are many places to meet people online. The problem is that many of these come with risks that sometimes aren't fully understood. Giving out too much personal information too soon, for example, could lead to problems with stalkers or other headaches. There are other things that should be avoided at all costs as well. Sometimes a dating coach can help make the whole complicated process of dating a little bit easier.
Online Dating Coaching at GoMentor.com
From learning what information to give out when brushing up on dating etiquette in the 21st century, dating coaching here at GoMentor.com is available online to help with everything that comes with dating in the modern world. Avoiding the dangers and risks that come with dating is important, but knowing how to deal with rejection and learning how to ask someone out without embarrassment is also important. Dating should not be a "game" with winners or losers. The coaches related to GoMentor can help both men and women with learning how to improve their chances of finding a suitable life partner when dating.
Typical types of dating in the Information Age:
Blind dates
Internet dating
Dating safely
Single parents and dating
Divorced parents and dating
Affairs
At GoMentor.com we have dating coaches who can coach and guide you through modern day dating.