Children with Terminal Illness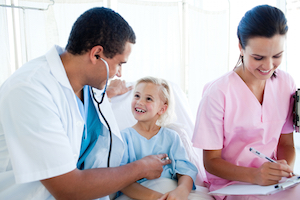 Perhaps one of the most devastating realities that some families have to face is the terminal illness and imminent death of a child. The myriad of grief and other emotions that pour into this situation is completely understand and very easily overwhelming for any family. However, it is important to remember as you go through this horrible time that you do not have to go through it all alone. With help and guidance, your family can work together to communicate and create lasting memories that will comfort you in days to come.
Struggles for the Child
It's sometimes easy to forget that a child diagnosed with a terminal illness experiences many of the same emotions and fears as any other terminal patient. What's more, because of their lack of life experience in dealing with intense emotions, it can be even easier for them to fall into the clutches of severe depression. Seemingly innocuous phrases like "I understand" can become powder kegs for a child's frustration, because to that child, it seems like no one can understand. Without proper attention and care, the terminally ill child can feel intensely alone. Remember to encourage children to express themselves and share their emotions – that open communication, while sometimes hard for the parent, can make a huge difference in a child's emotional landscape.
Typical reactions of a child with Terminal Illness:
Feeling isolated and misunderstood
Feelings of intense rage and injustice
Dealing with overwhelming grief
Feeling ill-equipped to deal with the situation
Denying the reality of the situation
Struggles for the Parent
Losing a child is something every parent fears and it can be all too easy in caring for that child to lose yourself. As your child becomes increasingly ill, their demands on you become more and more overwhelmingly. This makes their illness a constant presence in your life, which takes a huge emotional toll. Remember in caring for your child to also take care of yourself – eat and sleep as regularly as possible. Chances are if you're not taking care of yourself properly, the quality of care you give your child can be negatively impacted.
How We Can Help
Dealing with a child who has a terminal illness is the emotional experience of trying to cope with the reality of prematurely losing your child due to an unexpected and ultimately fatal disease. Here at GoMentor.com, we are sympathetic to the struggles your family is facing. Through therapy sessions with highly skilled professionals trained in both dealing with children and adults, we can help every member of your family with the immense transition that is about to occur. Grief counselling and other services that the therapists on GoMentor.com offers, can help you sort through the dense and often overwhelming emotions to some kind of peace and understanding.