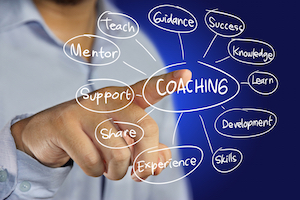 Whether supplied by a company or pursued by an individual on their own, business coaching can be a way to stay a step ahead of all the competition in the workplace. Today, more than ever, finding and keeping a job is important, but so is advancement for many people. Online business coaching here at GoMentor.com can provide the tools, coaching, and support needed to succeed in the modern business world.
Types of Business Coaching
These are some of the main areas that business coaching can help a person trying to be more successful:
Conflict Resolution Skills - Learning to successfully resolve situations that may arise in the business world is a valuable skill to have.
Presentation Skills - From setting up projectors to creating PowerPoint slideshows to actually speaking in front of people, there are many skills needed for good presentation.
Communication Skills - Learning better verbal and nonverbal communication skills can help a person succeed. Also, learning to be a better listener is also important.
Delegation Skills - A person who can delegate tasks efficiently can achieve more. For manager and executives, this is a very important skill to have in the business world.
Negotiation Skills - Learning the art (and war) of negotiation is difficult, but it can be taught. A business coach can help those looking to improve their negotiating skills.
Management Coaching - From new managers to those who have been around a while, management coaching can provide support and information that makes the job of managing people in a company or organization easier.
Executive Coaching - For people who are in charge at the top levels of a company, learning the skills necessary to succeed is a priority. Executive coaching can make a person become a better leader.
Motivational Skills - From self-motivation to motivating other workers, there are many motivational tips and techniques that can be taught by the right business coach.
Media Training - Learning about media options available in a world where technology changes quickly is important for companies to maintain their position in the business world.
Time Management - The ability to manage time more efficiently can lead to great gains in productivity, allowing a person to do and achieve more in a limited amount of time.
Entrepreneurship - Starting a business is an exciting and challenging process. Many fail at the endeavor, but a business coach may be able to help a person achieve their dreams of running their own business.
Performance Coaching - Learning to improve performance in employees without upsetting them is a valuable skill that allows a person to be a star at a company, which can lead to quick advancement.
Sales Coaching - From finding suitable prospects and leads to closing the sale, there are many techniques that can be taught to improve sales. While some people are born natural salespeople, others may need a little business coaching to perfect the art of the sale.
Business Coaching Online at GoMentor.com
Business coaching is counselling that is directed toward helping a person achieve more in the business world. There are many specific areas that a business coach can help, but business coaching is recommended for those who want to accomplish more in their career. No matter what is needed exactly, online business coaching with skilled coaches who specialize in a variety of issues that commonly come up in the business world. They can offer the advice, guidance, and support needed to be a more successful employee or even a business leader. It is possible to achieve great things without business coaching, but wise people identify their weaknesses and work on getting help in those areas from people who have experience with improving them. By making coaching available online, we hope to enable even more people to be successful, no matter what their exact career goals are in the business world. Sign up to GoMentor 24/7 today and start helping yourself improve your business life.
Benefits of Business Coaching
Nonverbal communication skills
Verbal communication skills
Public speaking
Making the sale or negotiation
Managing time
Starting a business
Improving performance
Being a better manager