Cognitive Therapy
Written by GoMentor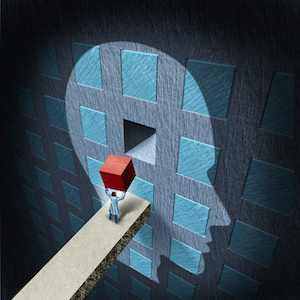 Cognitive therapy is a form of therapy mainly used by psychotherapists and psychologists. The therapy focuses on changing the way you're used to thinking - often with the purpose to get more positive and optimistic thoughts rather than self-destructive and negative thought patterns. The method focuses on our feelings and behaviour and how much they are controlled by ours thoughts. In that way the therapist strives to find a connection between thoughts, behaviour, feelings and sensations, and tries to find out how it is possible to change this connection to become a more positive mindset.
How does cognitive therapy work?
In cognitive therapy the therapist seeks to teach you how you can change your mindset by using different exercises and methods towards a better life. This happens when you look at the connection between your personality and the outside world, how these are interact and to what extent they have an influence on each other. A problem, challenge or addiction is often caused by external factors that have affected you to act a particular way when in a certain condition. The therapy works to change this negative condition or mindset that affects you by concentrating on creating a self-supporting, creative and focused thought pattern.
How is cognitive therapy beneficial?
It is very difficult to conclude who needs cognitive therapy as the therapy varies a lot depending on which challenges you are struggling with. The options are endless but the focus is always on the thinking and the ability to acknowledge.
Some of the mainly purposes with cognitive therapy are:
To become a more positive and optimistic human being
To become more happy
To find focus and get your priorities straight
To get a handle on the inner dialogue
To love your partner like you are newly in love again
To reduce or eliminate jealousy
To get a better self esteem and confidence
At GoMentor.com we have many verified psychologists who can help you with any psychological issues that you are struggling with.