Gestalt therapy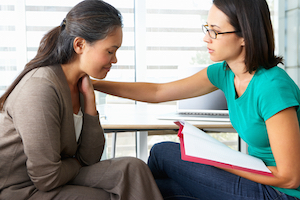 The main thesis in gestalt therapy is that human beings are dynamically changing and always responsible for their life. It is a self-regulating being using his og her innate ability to be attentive to one's needs and the conditions that are created to survive and unfold in mutual and meaningful contact with the surroundings. This reciprocal influence changes both a person and the environment continuously and therefore also the personality formation process that is going on all the time and not only during childhood.
What is gestalt therapy?
Gestalt therapy is a psychodynamic and experiential form of psychotherapy where the therapist is using the whole body and mind during the therapy. The therapist confronts the client verbally by expressing his or her feelings to the client. The relation between the therapist and the client has a central role as the gestalt therapist is neither objective or neutral but is willing to encounter the client. The therapist is using methods which aims to create awareness of the client's feelings, reactions and actions. This gives the client the opportunity to acknowledge and see which choices he or she has and also which consequenses these choices may have. The therapy itself is build on a belief about increasing self-awareness in the moment when client and therapist meet each other. Gestalt therapy is suitable for those who want to develop themselves personally or who have mild mental problems.